About us
[powr-chat id="7e4556a8_1614487149"]
Our Brick & Mortar Retail store hours (CST):
Monday: CLOSED
Tuesday - Saturday: 10AM - 5PM
Sunday - 11am - 3pm
"The mission for daiseye is to offer unique earth-friendly and/or fair trade products to our customer while educating shoppers about the importance of global responsibility." 
daiseye is an eclectic marketplace offering fair trade & earth-friendly products, clothing, accessories and gifts to enhance you and your living space.  Here you will find treasures of simple beauty created from materials such as reclaimed wood and tin, recycled glass, and organically-grown herbs and fibers.
In everything daiseye does in our daily life and offers as products to our customers we adhere to our core principles. 
daiseye's 7 core green principles that must be met by daiseye and our vendors:
1 - must be socially & economically responsible
2 - must NOT exploit children or any person
3 - must use energy efficient practices
4 - must use recycled content & reclaimed materials
5 - must support sustainable forestry
6 - must use organic and natural ingredients, including hemp
7 - must NOT test on animals
Take a Virtual Tour of daiseye & green 3 apparel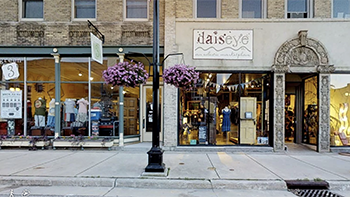 Thank you,
Matt & Jessica
You can reach us via email at [email protected] or by telephone at 920-295-3481.


Postal address:
PO Box 393
Princeton, WI 54968


Shipping address:
525 W Water St
Princeton, WI 54968